FILTER MEDIA

We stock a variety of filter media including polyester matting, ceramic rock, plastic ribbon media, plastic beads, and several types of hollow plastic media.
POLYESTER FILTER MATTING: This is the same green filter matting used in our skimmers and waterfall filters. It is dense enough to provide effective mechanical filtration of floating solids, but not so dense as to restrict water flow. It makes an ideal pre-filter for biological filter media such as our ceramic rock, and can be used to replace deteriorated foam pads. Standard rolls are 2' x 20' x 2" and 3' x 15' x 2", but we will cut 2' or 3' increments in length, respectively.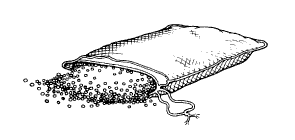 CERAMIC FILTER ROCK: Ceramic filter rock is a lightweight, durable, porous ceramic media that is ideal for biological filtration. It has many times the surface area of an equivalent volume of gravel or plastic media and is much more resistant to clogging than lava rock. Use it to fill the nylon mesh bags furnished with our waterfall filters (also sold separately), to enhance the performance of bog filters, and to replace the inferior plastic media supplied with many inexpensive pond filters. A twenty-five pound bag of ceramic rock has a volume of approximately one-half cubic foot and fills one nylon bag.
PLASTIC RIBBON MEDIA: This plastic ribbon media resembles plastic pallet strapping, but is made from a special blend of polypropylene and calcium carbonate that encourages rapid bacterial growth. It resists clogging and channeling, and is easy to clean. The surface is embossed to provide maximum surface area, approximately 180 square feet per roll. It is sold in self-dispensing rolls - simply position the roll above a filter and start unwinding from the center.
PRICNG:
Polyester Matting, 2" x 24", per ft in 2 ft multiples - $10.20
Polyester Matting, 2" x 24" x 20 ft - $152.00
Polyester Matting, 2" x 36", per ft in 3 ft multiples - $14.60
Polyester Matting, 2" x 36" x 15 ft - $164.00
Polyester Matting, 2" x 72" x 60 ft - $852.00
Ceramic Filter Rock, 25 lbs - $28.40
Nylon Mesh Bag, 12" x 18" - $5.80
Nylon Mesh Bag, 24" x 36" - $9.60
Springflo Filter Ribbon - $84.00